Department of Master of Computer Applications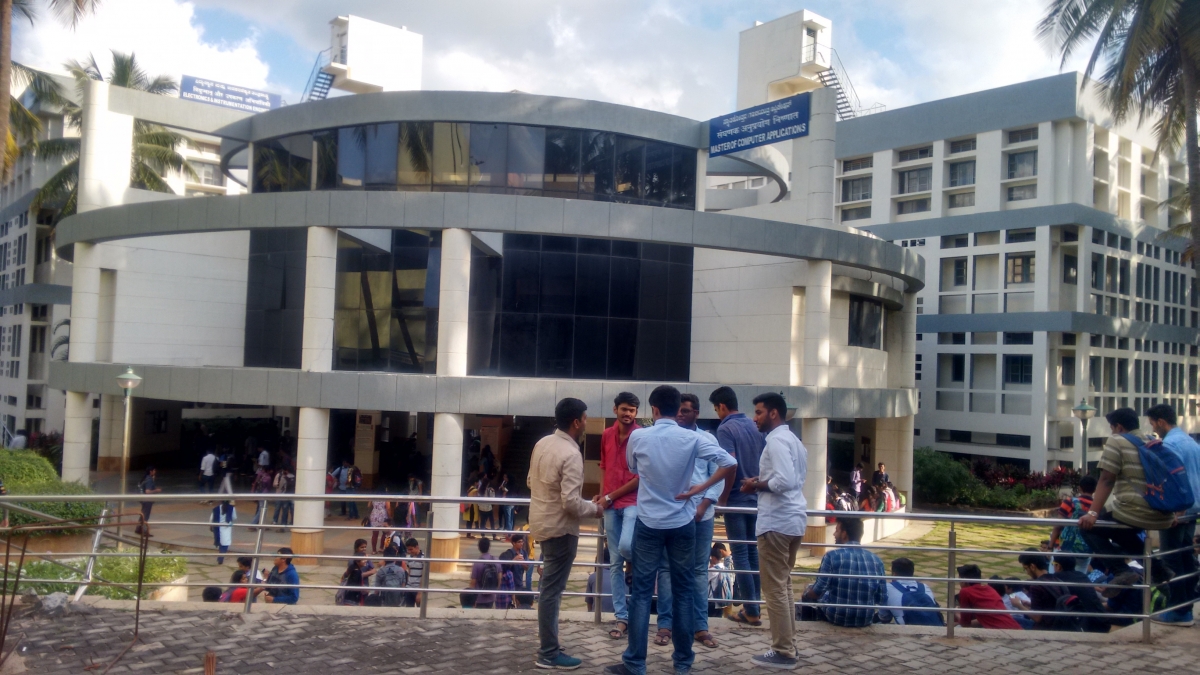 Started in the year 1997

Affiliated to Visvesvaraya Technological University, Belagavi

Received academic autonomy in year 2016

Approved by All India Council for Technical Education (AICTE), New Delhi

Accredited by National Board of Accreditation (NBA) Multiple times since 2009. Currently Accredited for five years - 2021-2022 to 2025-2026

Top Rank PGCET Admissions, Intake is 120 students

100% placement opportunities to the students and have a track record of 80% placement in the past three years and 96% internships during the final semester. Salary package of the students is around 7 lakh average per annum and maximum is 25 lakh in the year 2019-20 ongoing placement activity. The recruiters of MCA include JSOL, Accenture, Cisco, JPMorgan, Sapient, IBM, Infosys, CTS, Cerner, Mcafee, Endurance, National Instruments, Texas instruments,  CloudThat, Whatfix, Covance, CME group, Tally solutions, Dvara, Smartly built,  Thoughtworks and many other IT companies

The Department has academic initiatives with, Cognizant Technology Solutions for Free and Open Source Software and Campus Connect Program by Infosys Technologies

15 Ph.D. holders among faculty members and efficient faculty retention and Published 100 plus publications in international journals/ conferences in the last 5 years.

Completed Research and consultancy projects sanctioned by NRB, DRDO, CSI and other sources around 1 Crore and has ongoing research projects for Rs. 25 lakhs

Pioneered Open Source Software usage in and around RVCE campus and development of applications
National Conference Organized
The Department of Master of Computer Applications from RV College of Engineering®, Bengaluru, organized AICTE sponsored National Conference on "Critical Thinking for GenZ-Multidisciplinary Approach (CTGZMA)" in Association with ISTE, New Delhi, during 28 - 29 October 2021. The event is financially sponsored by the AICTE under the Grants for Organizing Conferences (GOC). The conference emphasized on current and important aspect of NEP 2020- Critical Thinking.
The conference was inaugurated by Prof. Anil D.Sahasrabudhe, Chairman, and AICTE in the presence of Dr. Pratapsinh Kakaso Desai, President, ISTE, Dr. K. N Subramanya, Principal, RVCE, Dr. Andhe Dharani, Director-MCA, Conference General Chair, Dr. Shanmukha Nagaraj, Dean Academics and Dr. Jasmine. K. S, the conference coordinator.
Academic programmes offered
PG Programme
Master of Computer Applications (MCA) with approved intake of 120 students

Duration : Two years extended over 4 Semesters

Eligibility for Admission
                              Passed BCA/ Bachelor Degree in Computer Science Engineering or equivalent Degree.
                              OR
                             Passed B.Sc./ B.Com./ B.A. with Mathematics at 10+2 Level or at Graduation Level
Obtained at least 50% marks (45% marks in case of candidates belonging to reserved category) in the qualifying Examination
Any other norms as per VTU
Admission Procedure
Students have to write Eligibility test PGCET (Government Quota for Karnataka Students) / KMAT (Management Quota for all students) conducted by KEA / KPPGCA respectively every year and notified separately by each organization
URL's
PGCET: www.kea.kar.nic.in
KMAT: www.kmatindia.com
Research Programme
Ph.D (Computer Applications) / M.Sc (Engg): Approved Research Center under Visvesvaraya Technological University, Belagavi

Started in 2011
VISION
Pioneering in ICT Enabled Quality Education and Research with a Focus on Sustainable and Inclusive Applications
MISSION
To adapt novel methodologies for quality education through experiential learning

To empower students with continuous, holistic education, emphasizing on discipline, ethics and social commitment

To become a vibrant knowledge center for research and software development

To continuously build capacity steering towards industry- institute collaborative research and entrepreneurial competencies

To utilize and develop free and open source software tools for sustainable and inclusive growth
Program Educational Objectives (PEO)
The MCA graduates will be able to
PEO 1 : Practice software engineering principles and standards to develop software to meet customer requirements across verticals
PEO 2:  Contribute to build sustainable and inclusive applications using mathematical, simulation and meta-heuristic models
PEO 3:  Demonstrate entrepreneurial qualities through individual competence and team work
PEO 4:  Achieve successful professional career with integrity and societal commitments leading to lifelong learning
Program Outcomes (PO)
On completion of the MCA Programme, MCA graduate acquire competencies to:
PO1: Computational Knowledge: Acquire in-depth computational knowledge and mathematics with an ability to abstract and conceptualise models from defined problems and requirements
PO2: Problem Analysis: Identify, formulate, conduct literature survey and solve complex computing problems through analysis as well as provide optimal solutions
PO3: Design / Development of Solutions: Design and evaluate solutions for complex problems, components or processes that meet specified needs after considering public health and safety, cultural, societal, and environmental factors
PO4: Conduct investigations of complex Computing problems: Conduct literature survey to analyse and extract information relevant to unfamiliar problems and synthesise information to provide valid conclusions and interpret data by applying appropriate research methods, tools and design experiments
PO5: Modern Tool Usage: Create, select, adapt and apply appropriate techniques, resources and modern IT tools to complex computing system activities, with an understanding of the limitations
PO6: Professional Ethics: Understand and commit to professional ethics and cyber regulations, responsibilities, and norms of professional computing practices
PO7: Life-long Learning: Engage in lifelong learning independently for continual development to improve knowledge and competence as a computing professional
PO8: Project management and finance: Demonstrate knowledge and understanding of management principles and apply these to multidisciplinary software development as a team member and manage projects efficiently as a leader considering economical and financial factors
PO9: Communication Efficacy: Understand and communicate effectively with the computing community and with society at large, regarding complex computing systems activities confidently and effectively by writing effective reports and design documentations by adhering to appropriate standards, make effective presentations and give / receive clear instructions
PO10: Societal and Environmental Concern: Understand responsibilities and consequences based on societal, environmental, health, safety, legal and cultural issues within local and global contexts relevant to professional computing practices
PO11: Individual and Team Work: Function effectively as an individual, as a member or leader in diverse teams in multidisciplinary environments
PO12: Innovation and Entrepreneurship: Identify a timely opportunity for entrepreneurship and use innovation to pursue and create value addition for the betterment of the individual and society at large
Program Specific Criteria (PSC)
The MCA programme will enable the students, by the time they graduate to
PSC1: Explain the principles of mathematics, computing and business foundations
PSC2: Demonstrate the use of software tools and technologies relevant to various verticals
PSC3: Design and develop software products, processes and systems for real world situations
Outline of the Program Structure
The MCA programme is a professional PG programme comprising  4 semester (2021 batch onwards) inclusive of one full semester project internship in industry / institute. The curriculum consists of computer science core subjects like Data structures, Object Oriented Programming, Computer Networks, Unix System Programming, Augumented Reality  & Virtual Reality (AR & VR), Artificial Intelligence & Machine Learning ( AI & ML), Interent of Things (IoT), Modern Application Development, Cloud Computing with Databases. Students can choose their area of interest as electives including Data Science, Networking, Software Solution Development with practice and so on. The following charts represents the blend of subjects of different skill areas in the 2016 autonomous scheme and 2013-16 VTU curriculum.