R.V. College is spread over 16.85 acres (16 acers & 34 guntas) Ramps and lifts have been provided to help the differently abled and sick. 90% of the class rooms are provided with multimedia projectors and internet facility. All academic blocks have secured Wi-Fi connectivity.
Campus Computing Facilities as on February 2023
Infrastructure Library, IT, Sports, etc
Facilities for Physically Challenged Persons
General Amenities include
Food Court
The college Food Court is designed to cater to 1000 students & staff, it is spread over 500 square meters. The college canteen is a place where students congregate to not only eat but exchange views. Our Food Court has a modern kitchen where food is steam cooked. The washed dishes are sterilized for hygienic serving. On campus we also have an extension food court counter.
Apart from the Main Canteen, the Mini Canteen also caters to the needs of students and staff and is ideally located on the other side of the campus.
Transport
The campus being 12Kms from the heart of the city and more then 20Km from suburban areas of the city, the college provides transportation facility for both students and staff.There are sufficient buses which take care of commutation of about one thousand students. There are two exclusive buses for the staff.
The city metropolitan transport service also runs city buses from important areas of city to the college. Some of the BMTC route numbers are 220, 221, 222, 224, 227 etc.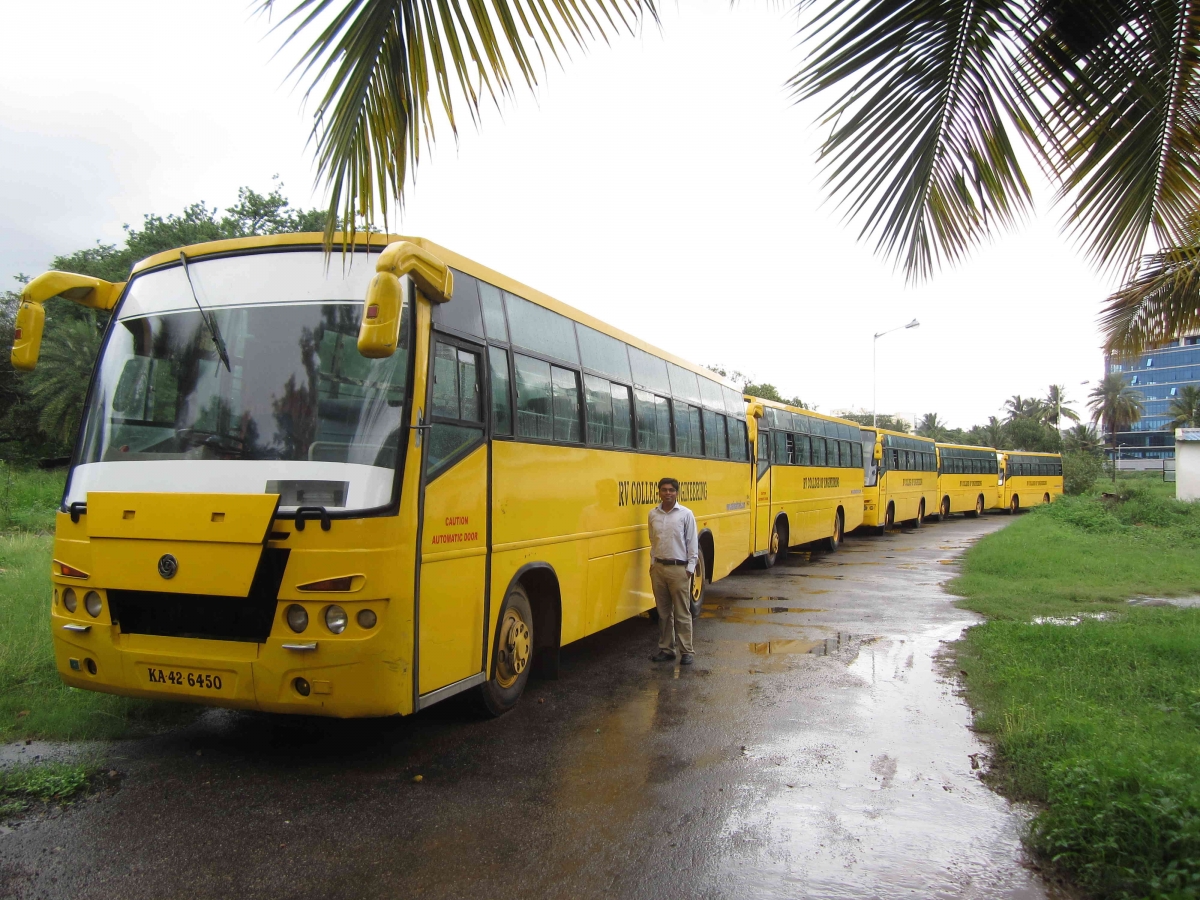 Bank
An on campus banking facility is provided by Kotak Mahindra Bank. The branch is listed as Kotak Mahindra, RVCE branch. It is fully computerized and air conditioned. It caters to the need around 7000 students and staff. The ATM facility is a boon to the hostelites and faculty. The bank takes care of all the college transaction. It also provides EC facility for parents and students to pay fees, hostel charges, mess bill, University fees etc.
Post Office
The campus has a branch post office, with the postal identification as R.V. Vidyaniketan P.O. The post office with an area of around 20 sqm, has the capacity to cater to the large number of inward and outward mails on a daily basis. Post Office also offers the small savings schemes.
Health Center
The campus has an exclusive health Center which is open to all the students and staff from 9 am to 7 pm. An Ambulence is stationed at the Health center to meet any emergencies.
In addition there is an exclusive clinical facility for hostelities from 5 pm to 7 pm. The health records of all hostelites are maintained on a regular basis to keep track of their health.
Facilities Available
Instruments Available

Outpatient Dispensary.
Minor Procedure Room.
Vaccination.
Ambulance service. (24*7).
Ward for Day care admission.(4 beds).
Isolation wards.
Suturing.

Glucometer.
Nebulizer.
BP Apparatus.(Mercury Free)
Pulse Oxy meter.
Suction Apparatus.
Oxygen Cylinders-2 numbers.
Otoscope.
Tuning Fork.
Surgical Equipments to carry out  minor procedures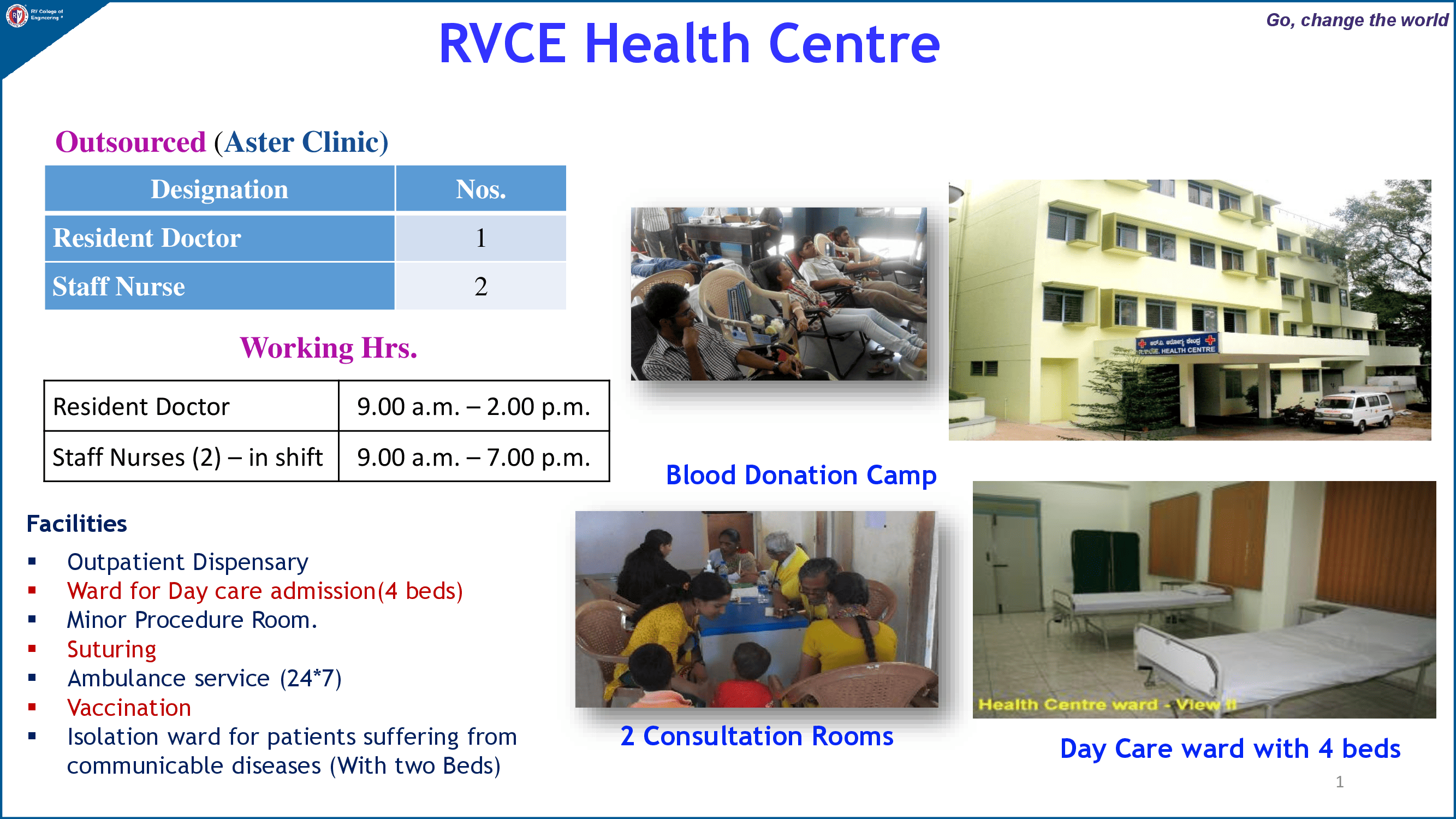 Sports and Gymnasium
With the belief "A Healthy mind in a healthy body", RVCE forays into sports arena and provides following facilities Cricket field , Football field, Hockey field, Volley ball court, Basket ball courts (both indoor and outdoor)Badminton courts (both indoor and outdoor), Shuttle badminton, Table tennis , Indoor Fames facility and Gymnasium
Reprographic Services
Reprographic facilities are provided on Campus, located next to the Food Court. The facility caters to the documentation needs of the students and adds to their convenience.
The Mission of the institution is to achieve self sustainability in terms of water, energy and waste management. Several steps have been taken to achieve this.
1.5 lakhs and 1 lakh
Rain Water Harvesting Phase – I 
Rain Water Harvesting Phase – II
Rain Water Harvesting Phase – III
Open Well & Borewell Recharge (Two bore wells for recharging ground water)
Reverse osmosis water treatment plant & Softening plant (22,000 litres)
Sewage Treatment Plant : (250 KLD output)

Solar Energy Harvesting (500 KWP)
Waste management
e-Waste – disposed through e-Parisara
Dry waste/Food waste – disposed through Samarthanam NGO
Greenary
Lush green environment with various specialties of trees, medicinal plants, lawn, etc.
Hostel
A home away from home', is the concept of hostels in RVCE. We provide the best possible comfort needed for students. The number of students accommodated in a room depends on the semester. As the concentration and privacy required is more as a student progress from first year to final year, accordingly the accommodation is provided.
There is only one common mess for all the boarders and is provided in Cauvery block with vegetarian food. The boarders are provided sports, gymnasium and Wi-Fi facilities.
Hostel Names:
Chamundi block: First year U.G. students.

Cauvery Annex block - First year U.G. students.

Cauvery block – Second & Third year U.G. students and
First, Second and Third year P.G. students.
Sir M. Visweswaraya block : Final year U.G. and P.G. students.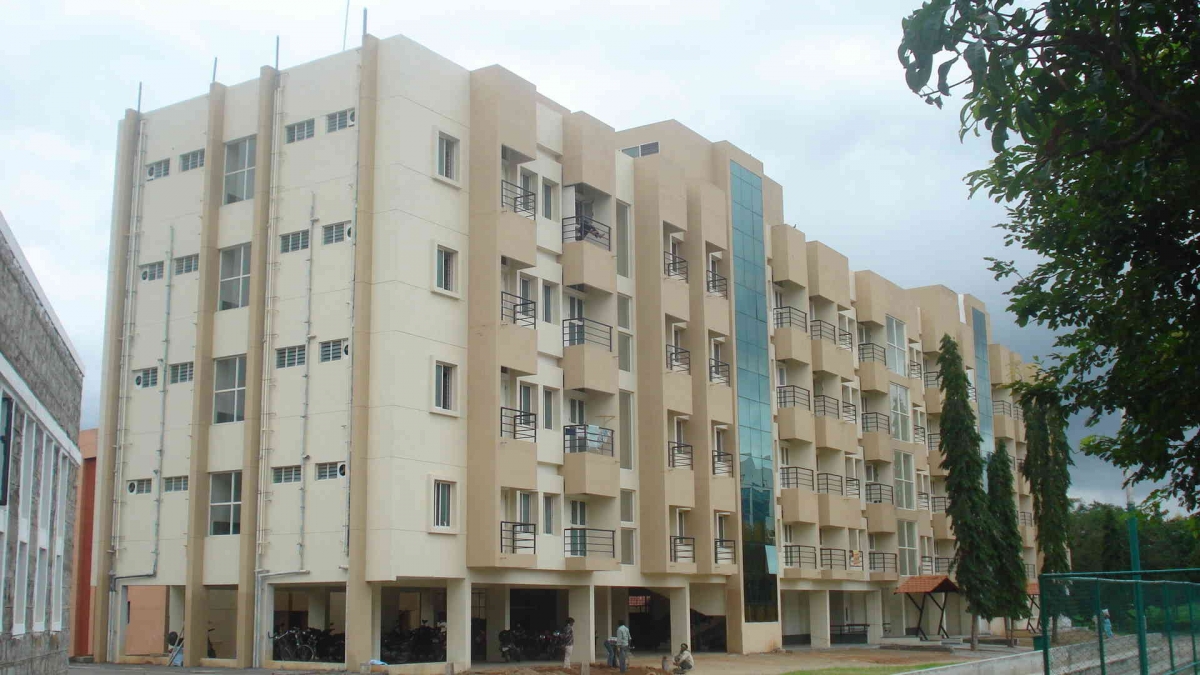 Sir M. Visweswaraiah Block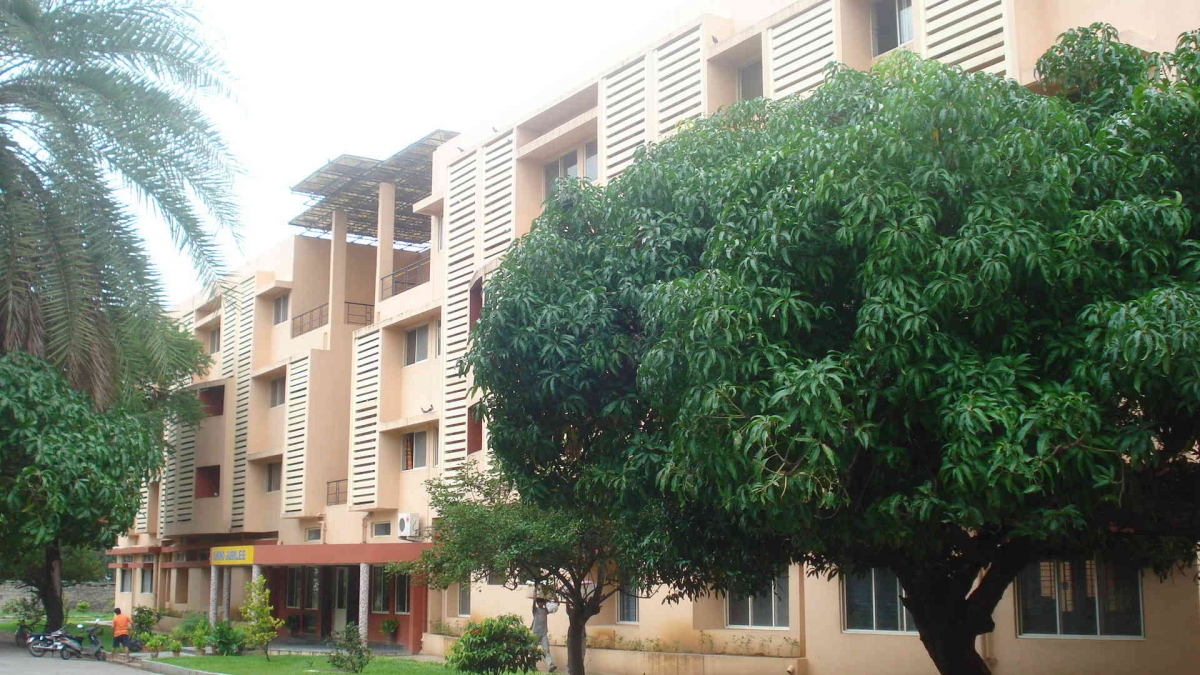 Diamond Jubilee Block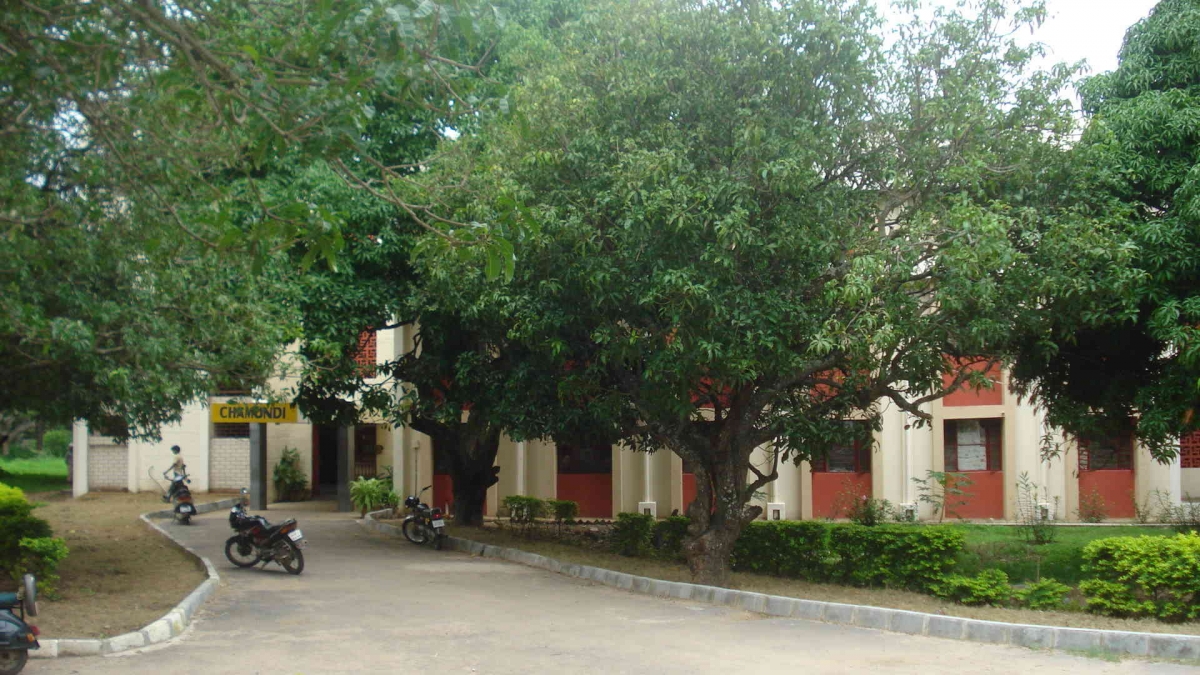 Chamundi Block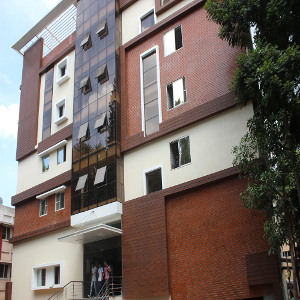 Cauvery Hostel
The entire Hostel for Boys is located at R. V. College of Engineering Campus.
For Information: Hostel Office - 080-67178424 / 67178148.
RVCE Girls Hostel Details
R. V. C. E. Girls Hostel 4th Cross, Krishna Garden, Pattanagere, Bangalore – 560011 For M.Tech/MCA and Higher Semester B.E. Students.
RVCE Girls Hostel (DJ Block), RVCE Campus, RV  College of Engineering, Mysuru Road, Bengaluru-560059 For First year and Higher Semester B.E. Students.
Note :
Hostel rooms are of sharing type.
Students are required to bring the following

Bedding.
Bucket / Mug and any other daily usage items.
Electrical items like Heating Coils / Iron Box / Tape Recorders etc., are not allowed.

Students are required to adhere to college dress code strictly.
Dr. Padmaja K.V, Warden RVCE Girls Hostel,
Professor & Associate Dean, Dept. of Electronics & Instrumentation Engineering.
R.V. College of Engineering, Bengaluru-560059.
Dr. K.N. Subramanya, Principal and Chief Warden, RVCE Hostels